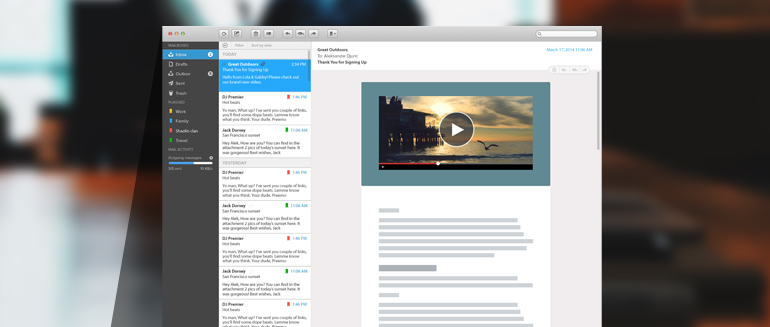 Best Practices for Incorporating Video Into Your Email Marketing

April 17, 2015
Today's competitive digital world makes it difficult to get the consumer's attention. Incorporating video into email marketing is one of the most potent ways to increase email engagement. Marketers using video in email are seeing increased click-through rates, more shares and forwards, an increase in conversions and higher average order value.
Below are some important best practices to keep in mind.
1. LENGTH OF THE VIDEO: Shorter is better. Keep your video under 60 seconds. If you can deliver the same message in 30 seconds – even better.
2. CONTENT: Make sure your video resonates with your audience and is relevant to your product or service. Video adds an entirely new dimension to your emails. Be creative, be edgy – but stay relevant and stay on message!
3. FORMAT: Use a format that supports both web and mobile video. Smartphones and tablets are everywhere. So make sure your video plays in both HTML5 and Flash.
4. YOUR EMAIL: Design your email so that video is the primary focus and is positioned above the fold. Your video should be up to 400 pixels wide. Your email should concisely state "what's in it for them" and why they should watch the segment.
5. LEAD GENERATION: Consider adding a URL to the video to create immediate engagement and take viewers to your landing page. Or add a form right on to the video, which viewers can use to subscribe directly to your mailing list. If they like what they see in the video, chances are the consumer will want to see more – make the next level of engagement natural and simple.
6. SUBJECT LINE: Your subject line copy should include the word "video" and tie into the segment's subject matter.
7. LANDING PAGE: Design a landing page to create continuity. In other words, keep the audience with you. Don't send them to YouTube!
8. TRACK EVERYTHING: Be sure to track open rates, play rates, shares, etc. and compare them to your traditional email campaigns. Today's email platforms give you all the data and campaign results you need to inform your decisions and drive campaign success.
---